Tree and Tree Stump Removal Services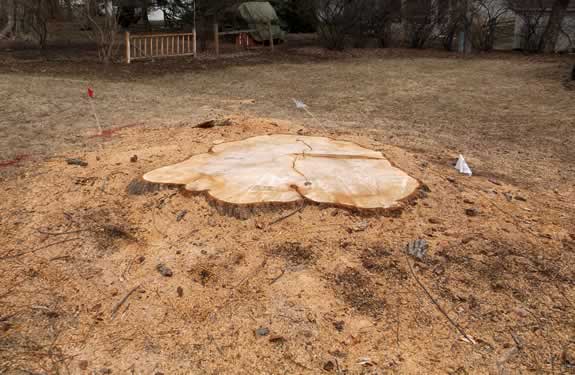 Providing large tree clearing and tree stump removal requires experienced hands and the right equipment. You want minimal property damage and safe operations. Our teams are trained professionals that follow the industry's ANSI Z133 safety standards.
As a property owner, hiring the right tree care company to perform one of the most dangerous occupations in the country can save you a lot of headaches. Please make sure that anyone you hire is professionally trained and fully insured like M&M Tree Care for tree removal and tree stump removal.
Our Tree Removal Services Include:
Carefully and safely lowering limbs to the ground.
Hauling away all wood and brush, and raking yard of small debris.
(Optional) Wood (6″ in diameter and bigger) can be left and cut into 16″ long pieces (not split).
Our Tree Stump Removal & Grinding Services Include:
Stumps ground down from 6″ to 24″ deep. We can access back yards with gates as narrow as 36 inches.
All surface roots and mounded areas ground down.
Please note that a pile of dirt and chips are left when we remove stumps. We would be happy to haul it away at an extra charge.
Lot Clearing Services
If you have a lot that needs to be cleared of trees, or need advice on where to place your new home to maximize tree retention be sure to call the professionals at M&M Tree Care at 414-355-3420. We offer a variety of tree care services and have six ISA Certified Arborists on staff to ensure you are getting the best tree services possible!
Tree Removal Photo Gallery
More Details on Tree & Stump Removal
Get a Free Estimate on Tree & Stump Removal
Call 414-355-3420 or contact us online with questions or to get a free estimate on tree and stump removal.