Tree Trimming & Tree Pruning Services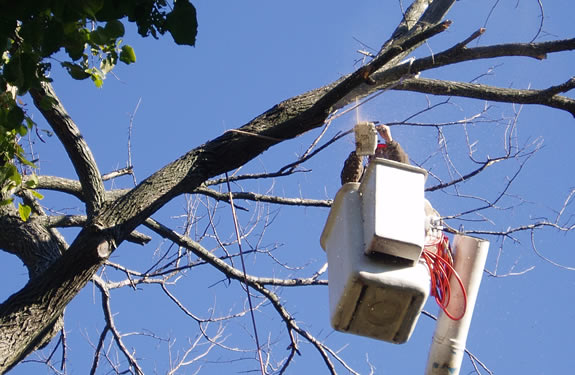 Dead or aging branches can cause injury to people or property. They can also compromise the health of your trees and shrubs. For this reason, we encourage our customers to consider professional tree trimming and pruning to keep trees growing in a safe, healthy and aesthetically pleasing fashion. Proper trimming and tree pruning also helps control disease and insect infestation. Of all our tree care services, trimming and pruning just might be the most important thing you can do for your tree health management!
Our Tree Trimming & Tree Pruning Services Include:
Removing dead limbs and water sprouts (suckers)
Thinning out the upper crown
Removing low hanging limbs
Trimming away from buildings and wires
Hauling away all debris
What to Ask A Tree Trimming & Tree Pruning Service Provider
When talking to any company about tree and shrub pruning, make sure to discuss with them exactly what you want done to your trees. Consider these questions:
Are your trees growing too close to your house, roof, or wires?
Do you want to be conservative, leaving as many branches as possible, or do you prefer a different approach, with more extensive trimming?
Do you want low branches removed for easier mowing?
Are there any dead branches on your tree?
Does your tree seem to be dying or unhealthy?
Our team will work with you to try to give you exactly what you want (as long as it does not compromise the tree's health or present a safety concern), as well as provide recommendations based on the health of your trees and our years of experience. The M&M Tree Care team is comprised of trained professionals, led by six ISA certified arborists.
We follow ANSI A300 Tree Pruning Standards, dividing projects into Fine pruning, Maintenance pruning or Safety pruning projects.
ANSI A300 Pruning Standards / Types of Tree Pruning
Pruning classifications provide further definition as to the extent, relative detail, and pruning technique utilized. These classes may vary in scope based on the particular definitions used and/or regional considerations (climate zones).
Fine Pruning
Recommended when primary the emphasis is on aesthetic considerations. Structural enhancement is secondary.
Maintenance Pruning
Recommended when structural enhancement and tree health concerns are primary. Aesthetic considerations are secondary.
Safety Pruning
Recommended when safety conditions are paramount. Includes pruning for structural clearance from branches or trees.
Get a Free Estimate on Tree Trimming & Pruning
Call 414-355-3420 or contact us online with questions or to get a free estimate on tree trimming and pruning services.