What is a Tree Specialist Anyway?
A tree specialist is another way to describe an arborist, tree surgeon, tree doctor, or for the high-minded, an "arboriculturist." To translate those fancy terms, a tree specialist is someone who is an expert in woody plants like trees and shrubs.
A tree specialist knows how to care for and grow healthy trees and shrubs as well as safely trim or remove trees. A tree specialist is NOT a landscaper with a chain saw who can hack away at a tree, but a person that knows trees like a good parent knows their children.
Tree Specialists at M&M Tree Care
We love trees, so that is what we stick with. You won't see us seeding lawns, setting up backyard patios, or fertilizing someone's flower bed. We go "all in" on tree care. That is why we have a ton of ISA Certified arborists (tree specialists) on staff. That is also why we keep the latest equipment and technology to safely and most effectively take care of your trees.
What is a Certified Arborist?
The International Society of Arboriculture defines an arborist as "an individual who is trained in the art and science of planting, caring for, and maintaining individual trees." At the end of the day, that definition means a certified arborist is a tree care specialist who should be able to safely perform the following activities in the healthiest way for the trees on your property:
Pruning
Trimming
Tree Removal
Emergency Tree Removal
Fertilization
Pest Removal and Prevention
Disease Removal and Prevention
Risk and Health Assessments
Other Tree Services such as bracing and cabling
Our certified arborists go through regular training and recertification every five years to maintain our ISA certifications. Knowing we continually retrain gives you the confidence that we stay up to date on the latest information available for keeping trees healthy.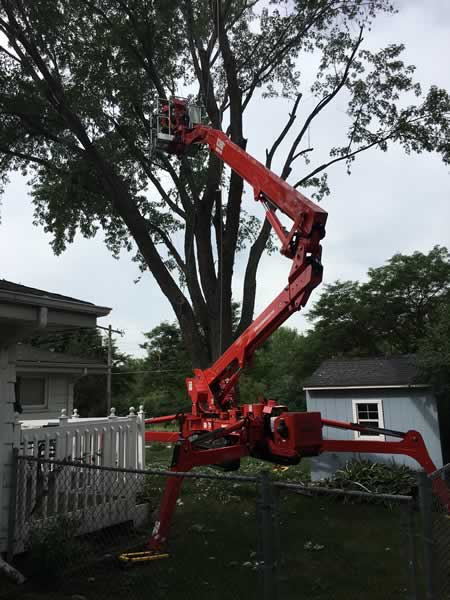 Does a Tree Specialist Really Make a Difference?
There can be a big difference between how a professional arborist takes care of trees and how an untrained worker trims or removes trees. You won't see an arborist "hat-rack" or just lop off the top of a tree. In fact, the way a tree is trimmed can help ensure the tree can better defend itself against disease and pests at the place where growth is removed.
Done incorrectly, you are just asking for the tree to get infected or infested meaning it will likely die sooner instead of later with improper care. If you pay good money to trim a tree, it is to help the tree stay healthy or to become healthier due to the trimming, right? A certified arborist can ensure your tree is treated right giving it optimal health.
Our Tree Specialists Want to Help Your Trees
Just like a vet likes to see you with healthy pets, we want to see you with healthy trees. After all, healthy trees can produce shade, act as windbreaks, and they can be outright beautiful. Healthy trees on your property can add value to the property, but more importantly, they should put a smile on your face.
Let us help put a smile on your face. If you give us a call, we will come over to your property and give you a free health assessment of your trees. We look forward to hearing from you.
Are you ready for a Tree Care Specialist?
We have seven ISA Certified Arborists on our team to make sure our customers get the best service possible!
Get a Free Estimate on Emergency Tree Service
Call 414-355-3420 or contact us online with questions or to get a free estimate on emergency tree clean up services.