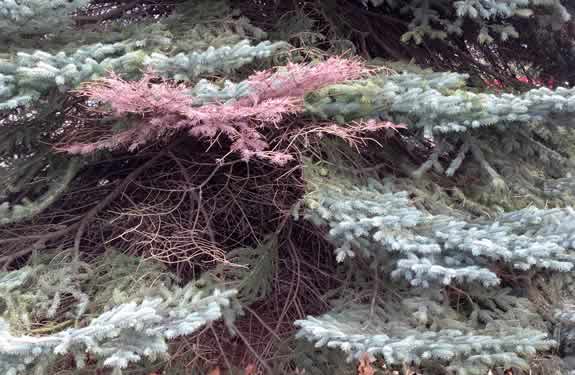 Accurate diagnosis is essential to using effective tree disease treatments. Tree diseases are abnormalities in trees and shrubs caused by microorganisms such as fungi and bacteria and by environmental stress such as drought, temperature extremes, and air pollution. Tree disease is often difficult to diagnosis because different causal agents can produce similar symptoms. Sometimes tree diseases can cause serious tree health problems or death if tree care services are not provided.
Keep Your Trees Free of Disease
Trees thrive when they are checked frequently and maintained. Our professional Arborists take the time to inspect your trees and assess their condition. We can tell you if your trees are getting too much or too little water, if they are getting proper nutrients and of course if they need tree disease treatments. At M&M Tree Care, we have six ISA Certified Arborists on our team to ensure our customers trees are kept as healthy as possible. Regular inspections for your trees' health are vital to managing tree diseases and helping them thrive.
After inspecting your trees for disease, our Arborist will determine the cause of stress or health decline. Then they will outline a plan to preserve your tree and bring it back to health if needed. M&M Tree Care takes a personalized approach to tree disease treatments for every customer's specific needs.
Anthracnose
Bacterial Leaf Scorch
Cytospora
Dothistroma Needle Blight
Dutch Elm Disease
Fire Blight
Iron Chlorosis
Phomopsis
Phytophthora
Powdery Mildew
Sphaeropsis Tip Blight
Spruce Gall Adelgids
Tar Spot
Verticillium Wilt
Get a Free Estimate on Tree Disease Treatments
Call 414-355-3420 or contact us online with questions or to get a free estimate on disease treatment for your trees.