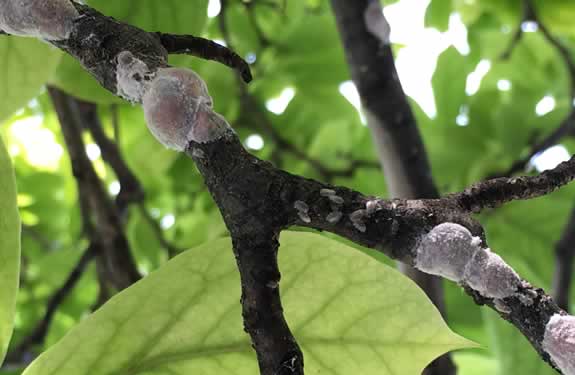 When you look closely at your trees or shrubs during the growing season, you are likely to find various types of insects living in, on, or around them that require tree insect control. What many people don't know is the difference between harmful insects and beneficial insects. Most insects cause damage for just a short period of time each year. Sometimes that damage can cause serious tree health decline or death if tree care services are not provided.
Get SE Wisconsin Trees Inspected for Insects
Whether it's a bark or trunk invading insect or a leaf feeding insect, damage may be irreversible if not caught in time. It is vital to get an early assessment and identify if tree insect control services are needed.
Trees thrive when they are monitored and maintained, which is why our professional arborists take the time to inspect trees for insects and assess their condition. With six ISA Certified Arborists on staff, keeping trees as healthy as possible in a safe and efficient manner is a top priority here at M&M Tree Care. Routine tree health inspections are vital for tree insect control and helping trees thrive is SE Wisconsin.
Your arborist will inspect the cause of tree stress or health decline and outline a plan to preserve your tree. Working with your local arborist ensures a personalized approach to tree health care. We have inspected trees and provided insect control since 1968. No one knows Milwaukee and SE Wisconsin tree insects like we do!
Tree Insects We Treat in Metro Milwaukee
Aphids
Arborvitae Leaf Miner
Ash Plant Bugs
Emerald Ash Borer
European Pine Sawfly
Bronze Birch Borer
Birch Leaf Miner
Gypsy Moth
Ips Beetle
Japanese Beetle
Lecanium Scale
Linden Borer
Locust Leaf Hoppers
Magnolia Scale
Pine Needle Scale
Spider Mites
Tent Caterpillars
Zimmerman Pine Moth
Get a Free Estimate on Local Tree Insect Control
Call 414-355-3420 or contact us online with questions or to get a free estimate on insect control for your trees.