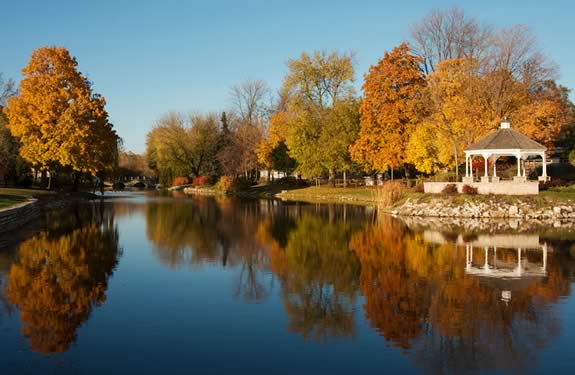 Trusted Wisconsin Residential Tree Care Service Professionals Since 1968
M&M Tree Care loves trees and we have offered Residential Tree Care Service from the very beginning.  Anyone can whack down a tree, we specialize in giving your trees health and vitality, giving you a better home and helping to grow better neighborhoods.  We partner with you to enhance your life through the trees and shrubs on your property to provide shade in the summer, windbreaks in the winter, and beauty year round.
When it comes time to trim or remove a tree or shrub, we do so safely, quickly, and affordably too.  How can we offer great residential tree care at affordable prices?  Our 50 years of experience, our passion for trees, our six expert certified arborists, and the right professional grade equipment allow us to give you the highest quality tree care without killing your budget.
Local Residential Tree Care Service
We have been serving Milwaukee and all of Southeastern Wisconsin from the very beginning.  We are large enough to handle any job, but we purposefully stay small enough to remain a local, family owned business that believes you build a business by working hard to build a solid reputation.  It seems our strategy has worked because our current customers are kind enough to send us a lot of referrals so their friends and family can get help from us too.
A Different Kind of Residential Tree Care Service
We want to be your tree care partner.  We therefore offer a free tree care consultation to let you know the current health of your trees and what you can do to keep your trees well.  Can you imagine what it would cost to replace a 50-year-old tree?  It is a lot cheaper to keep your trees healthy and strong, which is the best medicine against infestation and storm damage.  As the saying goes, "an ounce of prevention is worth a pound of cure."
We can custom craft a tree care plan for you that fits what you want for your trees and fits in your budget.  If you want to do some of your own pruning and let us do the hard work, great!  It is about working together for healthy trees and however we can work together to achieve that goal is ultimately what we all want.
Our Typical Residential Tree Care Client
Ultimately, we want to help people whom love trees like we do and most of our clients like the trees they have.  Trees not only bring beauty to our lives and our landscapes, they clean the air, produce oxygen, prevent erosion, are thought to work against global warming, properly placed can save on utility bills, are fun to play on and around, and the list goes on and on.  We think everyone should love trees or better stated, everyone should love HEALTHY trees.  With proper tree maintenance and care, you can be a part of the movement to improve everyone's lives through trees.
Alright, we reckon you get the picture that we love trees.  We are not "crazy," it is just our passion.  See the difference having a passion for trees makes by calling us today for help with your trees.
Residential Tree Care Services We Offer
Tree and Shrub Trimming and Pruning
Tree, Shrub, and Stump Removal
Tree Fertilization and Mulching
Tree Consultations

Tree and Shrub Pest and Disease Care

Emerald Ash Borer Treatment
Anthracnose
Apple Scab
Bacterial Leaf Scorch
Cedar Apple Rust
Cytospora
Dothistroma Needle Blight
Dutch Elm Disease
Fire Blight
Iron Chlorosis
Phomopsis
Phytophthora
Powdery Mildew
Rhizosphaera Needlecast
Sphaeropsis Tip Blight
Spruce Gall Adelgids
Tar Spot
Verticillium Wilt
Oak Wilt